I was a child in Japan during World War II and my early memories are of destruction, death, misery, and of the grandiosity of rampant tribalism and totalitarianism. After the War, even though Japan proclaimed itself a democracy, I remained keenly aware of its innate, deep-seated hostility towards individuality. To this day, in various subtle ways, expressing individuality in Japan is still considered dangerous and a blasphemy of one's tribe. In practice, it is something to be punished by various forms of repression and progressive excommunication.

I have been an artist since I was four years old. My struggle for individuality was never political or sociological: it was personal, psychological, philosophical and most of all, deeply spiritual in its nature. Art had always been my core of strength: art is where I am connected to eternal reality; at the same time art has always been the battlefield of my stormy fight.

I came to America 30 years ago, bleeding internally from my fight for my own individuality. I considered myself a spiritual refugee. All the works I have created here over the last thirty years are documents of victorious battles in my struggle to become myself.

My connection with Eternal Reality has become deepened by my fight for individuality, and it has given me the strength to carry on that fight. Art has become the place where I integrate my craving for Eternity – my strong tendency to meditate and withdraw - with my determination to be in this world. Fused by the centripetal force of art, this craving and this determination have become one in me.

Over these thirty years, I have become aware of my responsibility as an artist. Believing in the power of art, I would like to create honest images drawn from my center and present them to society -- not as a spiritual refugee, but as an artist and a global citizen.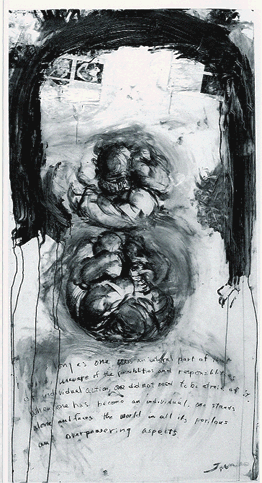 Individuation Journal,
Page 95/2 (1995)

Acrylic and clear mylar on frosted mylar. 42"x80" [107 cm x 203 cm]. Text from Escape from Freedom, by Erich Fromm